We are including a map of the city to orient you with the location of most school buildings. This way you can see prior to starting, the layout and also which buildings you will be going to. We marked the buildings with appropriate colors that correspond to a particular year. In case you want to live on your own and away from the dorm, this will also give you a sense of where to look for an apartment.
| | |
| --- | --- |
| RED - first year | BLUE - second year |
| GREEN -third year | BLACK - fourth year |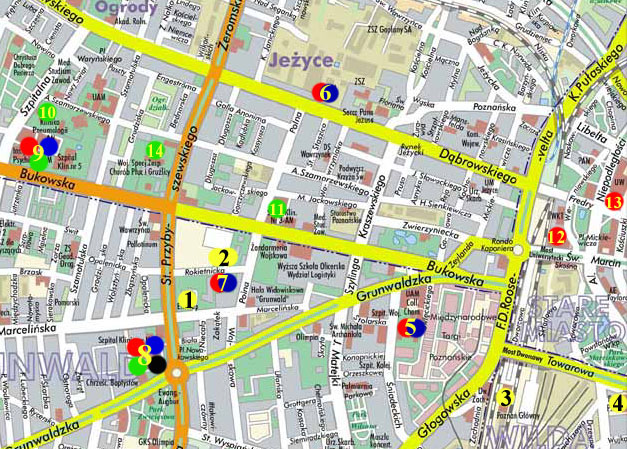 1. Eskulap Dorm - majority of the students end up here in their first year.
2. Medyk and Aspirinka Dorms - located next to each other and across from Pharmacology and Medical Polish classes.
3. Main Poznan Train station
4. Main Bus Station
5. Collegium Anatomicum - the home of first year classes like Anatomy, Histology, Physiology, Biochemistry, Embryology, Sociology, and some Genetics. Second year courses include Pathophysiology and Law and Ethics. It also includes 4th year Forensics Medicine.
6. Some 2nd year classes: Biostatistics, Public Health, Epidemiology, Hygiene, and Laboratory Medicine.
7. Medical Polish White building on Rokitnicka 5C is where Medical Polish is held and in back of it is another building where Pharmacology department is located.
8. General Hospital - 2nd year courses include Pathology, Immunology and Internal Medicine I. Also held here are 3rd and 4th year clinical rotations like Surgery, Internal Medicine II (Gastro, Endocrine, Nephro), and Dermatology.
9. Children's / Psychiatric Hospital - 1st year only parts of Genetics. 2nd year includes Behavior of Science. 3rd year includes Pediatrics and Psychiatry.
10. Pulmonology Clinical Hospital - Pulmonology 3rd year rotations
11. Woman's Hospital - main OB/GYN hospital for 3rd year rotations.
12. Microbiology Department
13. Collegium Magnus - Home of the School President ( Rektor). It is also a place for Parisitology and parts of Physiology (Biophysics Department)
14. Lung Diseases Hospital - 3rd year rotation in Cardio-Thoracic Surgery and Hematology
There are other buildings spread through out the city where you may have classes. However, the ones listed here are the major ones and most frequently visited by the students.